The Attractiveness of The Fear of the Lord
By David Burnette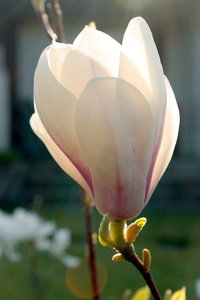 In our final highlight of Ed Welch's excellent book, When People are Big and God is Small, we move from the insight that fearing the Lord is the antidote to fearing people (which we saw in the last post), to learning how it is that we grow in this fear of the Lord. Welch states the problem this way:
"We must learn to know that our God is more loving and more powerful than we ever imagined. Yet this task is not easy. Even if we worked at the most spectacular of national parks, or the bush in our backyard started burning without being consumed, or Jesus appeared and wrestled a few rounds with us, we would not be guaranteed a persistent reverence of God. Too often our mountain-top experiences are quickly overtaken by the clamor of the world, and God once again is diminished in our minds. The goal is to establish a daily tradition of growing in the knowledge of God." (113)
Welch suggests the book of Proverbs as a practical guide for growing in the fear of the Lord. He notes,
"To grow in the knowledge of the Holy God we must find such knowledge beautiful and attractive. This is where the book of Proverbs can help. The heart of the book is the fear of the Lord: it is the gateway, the path, and the end of wisdom – "The fear of the Lord is the beginning of wisdom, and knowledge of the Holy One is understanding.
Since the fear of the Lord is the great treasure of life, Proverbs tries to woo us to it. It tries to make the fear of the Lord as attractive as possible." (113-114).
Along with reflecting on Proverbs, Welch points to a number of other ways in succeeding chapters to counteract the fear of man. The remaining chapter titles are instructive:
- Biblically Examine Your Felt Needs
- Know Your Real Needs
- Delight in the God Who Fills Us
- Love Your Enemies and Your Neighbors
- Love Your Brothers and Your Sisters
- The Conclusion of the Matter: Fear God and Keep His Commandments
If you struggle with the fear of man, codependency, or peer pressure (and who doesn't to some extent?), Welch's book is a great resource. He and the entire CCEF ministry continue to serve the church well.