The Fear of the Lord
By David Burnette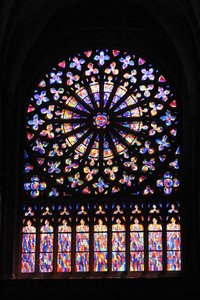 In the second half of his book, When People Are Big and God is Small, Ed Welch moves from defining and talking about the ways in which the fear of man shows up, to talking about how to combat that fear. His fundamental answer: the fear of the Lord.
All experiences of the fear of man share at least one common feature: people are big. They have grown to idolatrous proportions in our lives. The control us. Since there is not room in our hearts to worship both God and people, whenever people are big, God is not. Therefore, the first task in escaping the snare of the fear of man is to know that God is awesome and glorious, not other people." (95)
Welch describes two aspects of the fear of the Lord. First, there is a terror of God, or "threat-fear." This is the kind of fear that all people rightly have as unclean sinners before a holy God. For the believer, this kind of fear is fading due to God's love, but for the unbeliever it is always present, even if hidden in various guises.
Welch defines the other aspect of a biblical fear of the Lord as follows. It is:
"…a fear reserved exclusively for those who have put their faith in Jesus Christ. This fear means reverent submission that leads to obedience, and it is interchangeable with 'worship,' 'rely on,' 'trust,' and 'hope in'" (97).
This latter kind of fear, what Welch calls a "worship-fear," knows of God's just anger toward sin, but it trusts in "God's great forgiveness, mercy, and love" (97).
As Welch notes, having a right fear of the Lord is not easy, for it is opposed by the world, our own flesh, and the Devil. But God has provided help in this battle:
With such adversaries, growing in the fear of the Lord will not be a smooth process. Instead, it will be the path of warfare. We must hate the evil and ungodly assumptions of the world, we must hate our own sinful nature, and we must hate Satan. To accomplish these tasks demands the most powerful resources we have: the Word, the Spirit, and the body of Christ" (101).
By God's grace, let's use the resources He has given so that He might appear to us as He is, big and glorious, and worthy of fear.